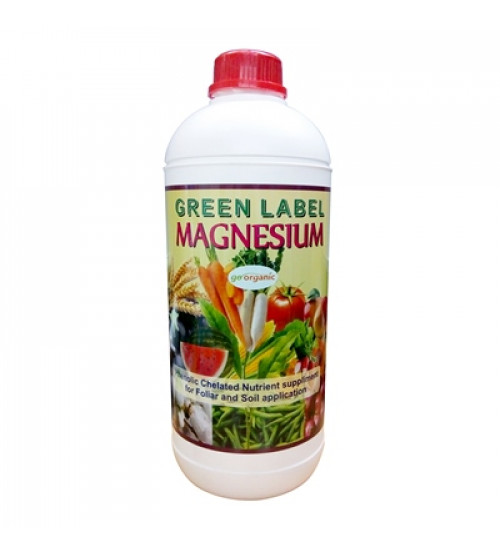 Green Label Magnesium (Mg 4%, S 5%) 1 Litre
Brand: Gassin Pierre Pvt. Ltd.
Categories: Bio Products, Bio Fertilizer,
Availability: In Stock
Cash on delivery Availability: NO
Green Label Zinc (10% Zn + 5% S) 1 Litre
Product Description:
It is a foliar or soil applied micronutrient and is non phytotoxic when used as directed.

Green Label Magnesium is completely available and absorbed by the leaf surface or the root system because of the natural complexing properties of its phenolic acid chelating complex.

Green label Magnesium is non-phytotoxic when used as directed. It is an excellent acidification agent for lowering high pH in spray tank water to decrease the alkaline hydrolysis of most pesticides.

Green label Magnesium is an effective dispersing agent when applied with other foliar spray chemicals.

Green label Magnesium is compatible with most insecticides, fungicides and foliar nutrients.
GUARANTEED ANALYSIS:
Magnesium (Mg) 4%

Sulphur (S) 5%
CROP:
Mango, Grapes, Banana, Water Melon, Potatoes, Onions, Turnips, Cabbage, Lettuce, Carrots, Tomato, Rice, Pulses, Oilseeds, Wheat.

Ornamental & Aquatic plants.
RECOMMENDED DOSE:
Vegetables – 0.5L- 0.75L/ Ha

Fruits – 1-1.5L/Ha

Field Crops – 1L/Ha

WARRANTY:
Since the use of this product is beyond our control we cannot assume and any responsibility other than uniform quality of the product.
CAUTION:
Harmful if swallowed. Avoid breathing the spray-mist. Avoid contact with eyes, skin or clothing.
Keep out of reach of children.

Net Volume: 1 Litre

Manufactured, Packed & Dispatched by: Gassin Pierre Pvt. Ltd.