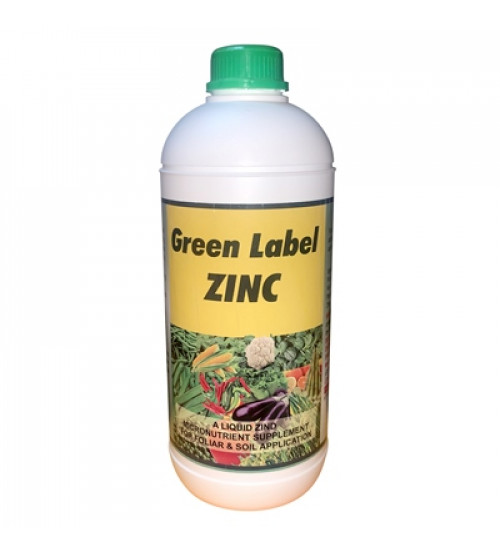 Green Label Zinc (10% Zn + 5% S) 1 Litre
Brand: Gassin Pierre Pvt. Ltd.
Categories: Bio Products, Bio Fertilizer,
Availability: In Stock
Cash on delivery Availability: NO
Green Label Zinc (10% Zn + 5% S) 1 Litre
Product Description:
​
GREEN LABEL ZINC (10%Zn + 5%S)
It is a foliar or soil applied micronutrient.

Green Label Zinc is completely available and absorbed by the leaf surface or the root system because of the natural complexing properties of its phenolic acid complex.

For best results spray when the crop is in active growing stage after irrigation.

Green Label Zinc is compatible with insecticides, fungicides & foliar nutrients.
GUARANTEED ANALYSIS:
Zinc (Zn) 10%

Sulphur (S) 5%
CROP:
Mango, Grapes, Water Melon, Potatoes, Cabbage, Lettuce, Carrots, Tomato, Paddy, Wheat, Barley, Maize, Sweet Corn, Capsicum, Peppers, Spinach, Mustard, Fenugreek, Bathua, Colocasia/ Arbi Leaf, Saijan saag, Kulfa saag, etc.

Nursery Development of all fruits.

Ornamental & Aquatic plants.
RECOMMENDED DOSE:
Vegetables – 0.5L- 0.75L/ Ha

Fruits – 1L/Ha

Field Crops – 1L/Ha

Others – 0.5L/Ha

DIRECTION FOR USE:
For best result spray in the morning or late afternoon.

MIXING SCHEDULE:
Water 2. Green Label Zinc 3. Pesticide

WARRANTY:
Since the use of this product is beyond our control we cannot assume and any responsibility other than uniform quality of the product.

CAUTION:
Harmful if swallowed. Avoid breathing the spray-mist. Avoid contact with eyes, skin or clothing. Keep out of reach of children.

Net Volume: 1 Litre

Manufactured, Packed & Dispatched by: Gassin Pierre Pvt. Ltd.