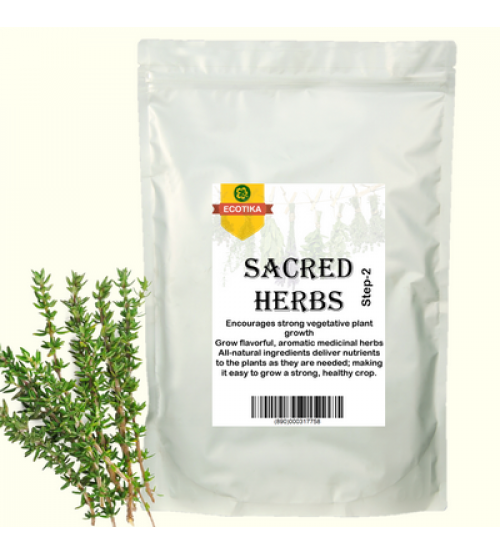 Sacred Herbs Step-2 Growth Promoter Mix 1 Kg
Brand: Ecotika
Categories: Bio Products, Plant Growth Promoter, Bio Fertilizer,
Availability: In Stock
Cash on delivery Availability: NO
Sacred Herbs Step-2 Growth Promoter Mix 1 Kg
Description:
Grow flavourful, aromatic medicinal herbs without complication. Ecotika's Step-2 Growth Promoter provides balanced nutrients to support mature vegetative and root growth. All-natural ingredients deliver nutrients to the plants as they are needed; making it easy to grow a strong, healthy crop. Once plants are established, switch to Sacred Herbs Flower maker to encourage the next phase of growth.

Dosage of Sacred Herbs growth Promoter: 1/2 cup to 1 cup (20 to 40 Grams) in 5 kg of soil
Application: Broadcast uniformly over top soil, best when the mix is properly mixed with top soil.

Net Weight: 1 Kg
Manufactured, Packed & Dispatched by: Ecotika