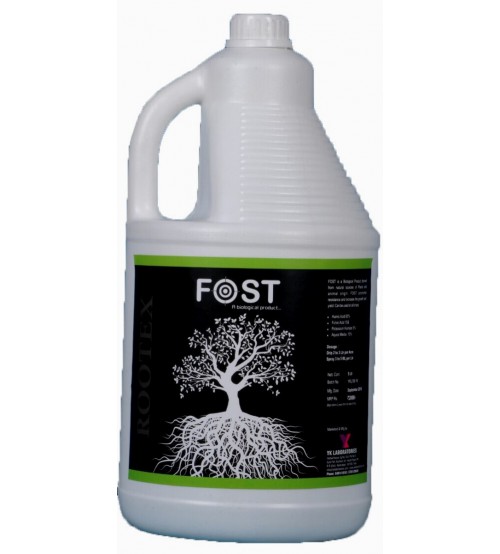 Fost - Humic Acid 65% 5 Litre
Brand: YK Laboratories
Categories: Certified Organic Products, Organic Fertilizer, Plant Growth Stimulator,
Availability: In Stock
Cash on delivery Availability: NO
Price:
Rs 2,800.00
Rs 1,600.00
Fost - Humic Acid 65% 5 Litre (Rootex)
Organic Manure / Growth Promoter
Click here to see Organic Certificates of YK Labortories
Description:
Fost is the combination of organic fertilizer and Organic Manure, main ingredients are Humic Acid & Fulvic Acid.

Fost Benefits:
Fost increase the water infiltration and water-holding capacity of the soil.

Fost greatly increase the plant root growth and metabolism.

Fost enhance seed germination, and help plants deal with environmental stresses.

Fost uptakes the water, nutrients & minerals in large Quantity.

Fost Helps to maintain a more uniform soil temperature

Fost controls Biotic and A biotic stress.

Composition:
Humic Acid - 65%

Fulvic Acid -15%

Potasium Gumate -10%
Fost use for Humic Acid, Fulvic, Amino Acids.

Application Method:
Foliar and Drip Irrigation

Foliar Spray:
3-5 ml per Litre of water.

Drip Irrigation:
Packaging: