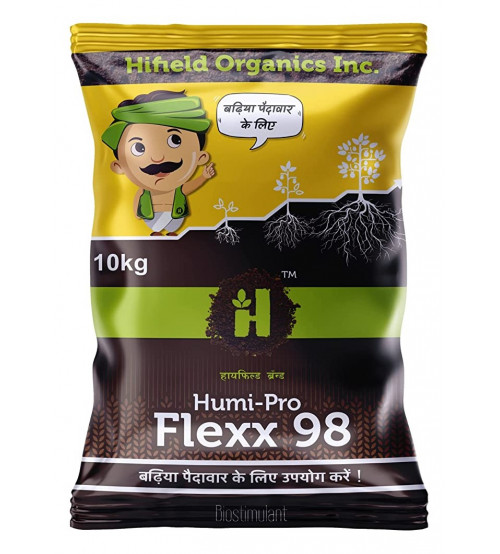 Humi Pro Flexx 98 WSF (Humic Acid) 1 Kg
Brand: Hifield Organics Inc.
Categories: Bio Products, Plant Growth Promoter,
Availability: In Stock
Cash on delivery Availability: NO
Price:
Rs 1,100.00
Rs 600.00
Humi Pro Flexx 98 WSG (Humic Acid) 1 Kg
Humic Acid 98%
Plant Growth Promoter
1 Kg box packing
Bio Products
Description:
Included components: Biologically activated Humic acid 98%.
Form of product: Powder
Benefits of Humi Pro Flexx 98:
Improves fertility of soil humi pro flexx 98 works on the betterment of soil by improving its structure and biological properties that are essential for the healthy growth of your crops.

Increase better leaf and root development humi pro flexx 98 is a humic acid-based product that boosts the growth of new roots and leaves in the plant.

Betters vegetative development of crops.

Humi pro flexx 98 improves microbial activity and enhances soil effectiveness in nutrient uptake as a chelating agent of plant growth that in turn improves vegetative characteristics, and nutritional intake of plants.

Features:
100% water soluble. 100% natural plant fertilizer containing humic acid, suitable for all varieties of plants.

Application of humic acid resulted in an increment of plant height, lateral shoot number per plant, leaves number per plant, stem diameter, and leaf area.

Dose and Mode of Application:
Foliar Application: 2/3 grams Per Litre of Water
Drip Irrigation: 500 grams to 1 KG Per Acre
Drenching: 3-4 Grams Per Litre of Water

Crops:
All crops vegetables, flower gardens, orchards, turf grass, Fruits (Horticulture), Hydroponics, Green House Crops, etc.
Country of Origin: India
Manufacturer Name: Hifield Organics Inc.
Manufacturing Address: Plot No G-39/16, Sector G, M.I.D.C WALUJ, AURANGABAD 431 136 (M.S.) India.