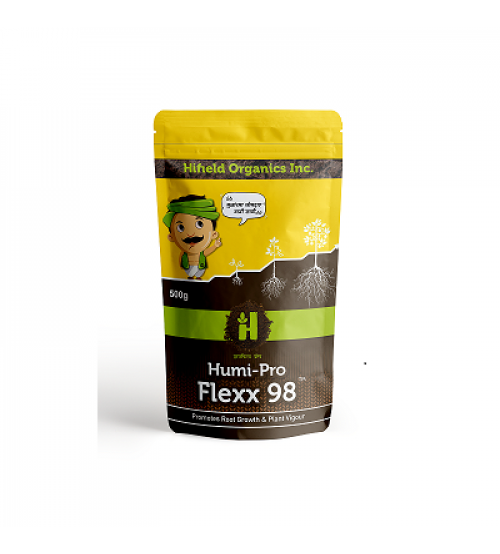 Humi Pro Flexx 98 WSF (Humic Acid) 1 Kg
Brand: Hifield Organics Inc.
Categories: Bio Products, Plant Growth Promoter,
Availability: In Stock
Cash on delivery Availability: NO
Price:
Rs 900.00
Rs 480.00
Humi Pro Flexx 98 WSG (Humic Acid) 1 Kg
Humic Acid 98%
Plant Growth Promoter
1 Kg box packing
Bio Products
Description:
Suitable for Home Gardening, Organic farming, Nursery, Hydropoics, Kitchen Garden.
PGR Based nutural fertilizer, For Root Growth And Vigour.
Included components: Biologically activated Humic acid 98%.
Form of product: Powder

• 100% Water Soluble organic input containing Humic Acid.
• An excellent root stimulator.
• Increases plant height, steam width, leaf area and number of leaves.
• Enhances overall growth of plant and Improves soil fertility.
• Boosts yield quality and quantity.
• Appropriate for every crop and vital for sandy, normal and clay soils.

Country of Origin: India
Manufacturer Name: Hifield Organics Inc.
Manufacturing Address: Plot No G-39/16, Sector G, M.I.D.C WALUJ, AURANGABAD 431 136 (M.S.) India.