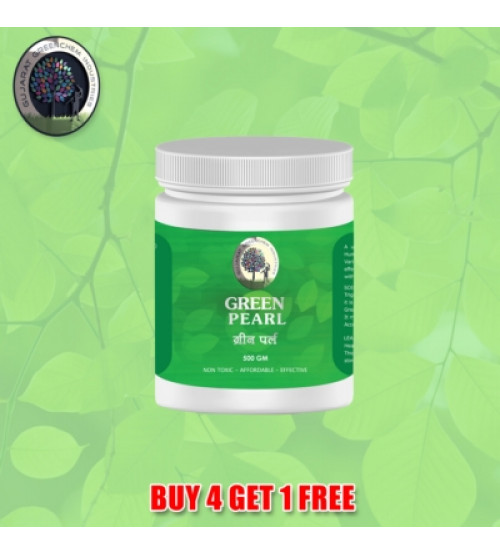 Green Pearl - 500 gram (BUY4GET1FREE)
Buy 4 Get 1 Free
Brand: Gujarat Greenchem Industries
Categories: Bio Products, Plant Growth Promoter,
Availability: In Stock
Cash on delivery Availability: NO
Price:
Rs 750.00
Rs 510.00
This product has a minimum order quantity of 4
Green Pearl 500 gram
A uniform combination of Macro and Micro Nutrients, Humate, Fulvate, various Micro Elements, minerals and vitamins.
Various field tests, crop cycle tests and research done to prove effectiveness of GREEN PEARL
Uniform results proves the product with accurate combination of contents.

Soil, Roots and Plant Benefits:
Triggering rooting resulting in increased nutrient uptake

It is a chelating agent and disease suppressant.

Greater resistance to stress and adverse environmental conditions

It maintains overall plant growth, stimulates plant enzymes.

Accelerate seed germination
Leaf & Fruit benefits:
Healthier foliage and fruit appearance

Thicker, enlarges and balances the leaf growth

Stimulates cell division, and improve the fruit set and blossoming
Non Toxic - affordable - effective

Recommended Dosage:
Foliar Application: 15-20 Gram / 15 LTR OF WATER (PUMP)

Net Content: 500 grams

Manufactured, Packed & Dispatched By: Gujarat Greenchem Industries
Click here to see Guarantee / Warranty of this Product.