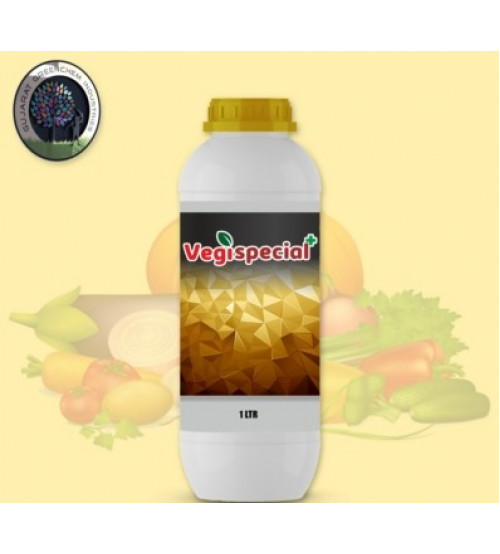 Vegi Special - 1 Litre
Brand: Gujarat Greenchem Industries
Categories: Bio Products, Plant Growth Promoter,
Availability: In Stock
Cash on delivery Availability: NO
Price:
Rs 640.00
Rs 380.00
Vegi Special 1 Litre
Combination of natural macro and micro -nutrients and group of plants growth
Promoters to prove effectiveness of vegi special +

Roots & Overall Growth:
Avail the protein synthesis and chlorophyll production of crops.

Enhance the anti-stress and anti diseases capacity.

Accelerate seed germination and increase crop yield.

Increase yield and improve quality significantly.

Maximize Photosynthesis and increase cell division
Leaf & vegetable benefits:
Obtain bigger and well-shaped vegetables,

Increase the size and weight of Vegetables.

Leaves become green and thick fast.

Improve Blossom and Fruit set

Vegi special+ is specifically designed to perform best

Results in vegetable crops.
Recommended Dosage:
Foliar Application: 2 -3 ML / 1 LTR OF WATER (30-40 ML Per Pump)

Drip Irrigation: 1-2 LTR Per Acre

Seed Treatment: 20-30 ML / 1 Kg of seed

Application: 1-2 LTR per acre in difference of every 15-20 days starting from seed to fruit stage.

Net Weight: 1 LTR

Manufactured, Packed & Dispatched By: Gujarat Greenchem Industries
Click here to see Guarantee / Warranty of this Product.