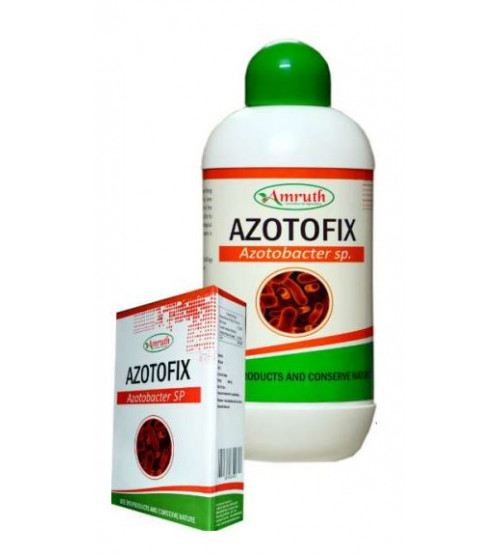 Azotofix - Liquid (Azotobacter sp.) 1 Litre
Brand: Amruth Organic Fertilizers
Categories: Bio Products, Bio Fertilizer,
Availability: In Stock
Cash on delivery Availability: NO
Price:
Rs 750.00
Rs 735.00
Azotofix - Liquid (Azotobacter sp.) 1 Litre
Common Name: Azotofix - Liquid
Bio Fertilizer
1 Litre Bottle
Product Description:
Azotofix is a bio-fertilizer based strain of Nitrogen fixing bacteria.

It is a free living nitrogen fixing bacteria, lives freely in the soil and multiplies by making use of the organic matters, as the source of carbon (energy) for its growth and existence.

Through the process of biological nitrogen fixation and makes it available to the plants in an easy utilizable form.
Dosage :
Mix AZOTOFIX at the rate of 3-5ml per liter of water/ seed treatment / drip irrigation / FYM.

For Individual Plants 2 to 5ml / 2 to 5 gm / liter of water & apply directly into the soil.
Benefits :
It fixes the atmospheric nitrogen to the level off 22-40 kgs per hectare and helps to reduce the amount of the synthetic fertilizer application.

Helps to improve the soil health.

Helps to increase crop yield

Manufactured, Packed & Dispatched By: Amruth Organic Fertilizers

Click here to see Guarantee / Warranty of this Product.