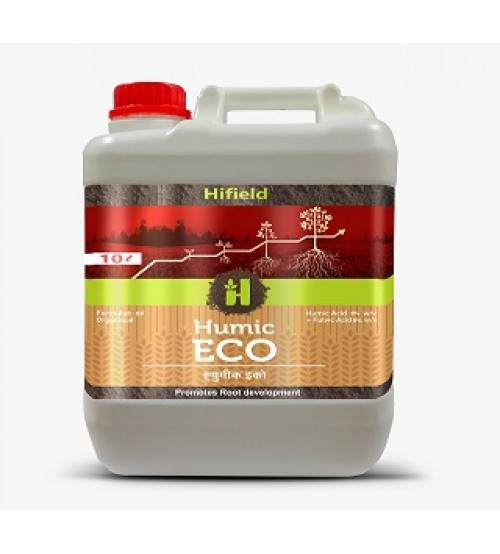 Humic AG Eco - 10 LTR
Brand: Hifield Organics Inc.
Categories: Bio Products, Plant Growth Promoter,
Availability: In Stock
Cash on delivery Availability: NO
Price:
Rs 5,100.00
Rs 2,400.00
Humic AG Eco - 10 LTR
Plant Growth Promoter
10 Litre HDPE Can
Bio Products

Description:
Hifield's Humic Eco is a humic acid and fulvic acid based liquid organic stimulant which helps in growth of white roots, stops soil leaching, increases soil fertility, promotes new leaf growth and increase of chlorophyll content, Suitable for Foliar spray and drip irrigation. Humic Acid, Fulvic Acid, Potassium Humate

Benefits Of Humic Eco : Promotes White Root Development Effective Shoot Development and Soil Conditioning Helps Water Holding Capacity Of The Soil. Makes available Natural N.P.K. And Other Micro Nutrients By Way Of Effective Chelation

Dose: 1 to 2 ML / Ltr, Suitable for Drip, Foliar Spray, Drenching, suitable for Foliar spray and drip irrigation

Spray interval: Sowing And after every 20 days

No. of spray times: 2 times

Crops: All crops vegetable, flower gardens, orchards, turf grass, Fruits (Horticulture), Hydroponics, Green House Crops etc.

Manufactured & Dispatched by: Hifield Organics Inc.