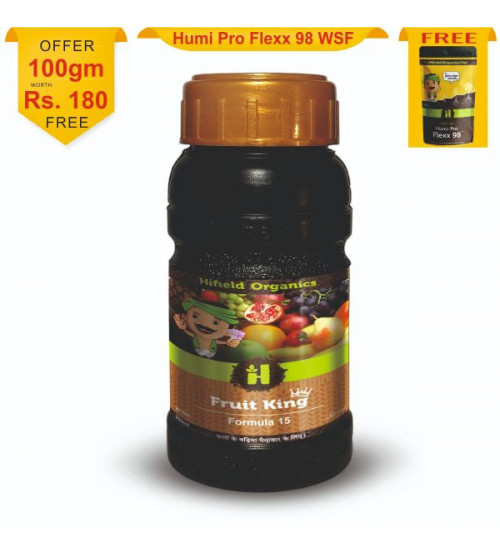 Fruit King (Seaweed Extract Fruit Special) - 5 LTR (Offer)
Humi Pro Flexx 98 WSF (Humic Acid) 100 grams Free
Brand: Hifield Organics Inc.
Categories: Bio Products, Plant Growth Promoter, Today's Deals,
Availability: In Stock
Cash on delivery Availability: NO
Price:
Rs 3,900.00
Rs 2,100.00
Fruit King (Seaweed Extract Fruit Special, Overall Development Amino, Proteins, Vitamins, Fruit Size) - 5 LTR
Plant Growth Promoter
5 Litre HDPE Can
Bio Products

Description:
Hifield's Fruit king is a unique extract of kelp (Seaweed) from Bay of Bengal, its unique composition helps in increasing fruiting, increases flower to fruit conversion, increases weight, colour and vigour of fruits, It increases shelf life, and increases stress handling capacity of fruits, creates resistance towards insect attack)

Dose: 1 to 2 ML / Ltr, Suitable for Drip, Foliar Spray, Drenching

Spray interval: Pre flowering/ Post Flowering every 15 days

No. of spray times: 2 times

Crops: All crops vegetable, flower gardens, orchards, turf grass, Fruits (Horticulture), Hydroponics, Green House Crops etc.

Country of Origin: India
Manufacturer Name: Hifield Organics Inc.
Manufacturing Address: Plot No G-39/16, Sector G, M.I.D.C WALUJ, AURANGABAD 431 136 (M.S.) India.