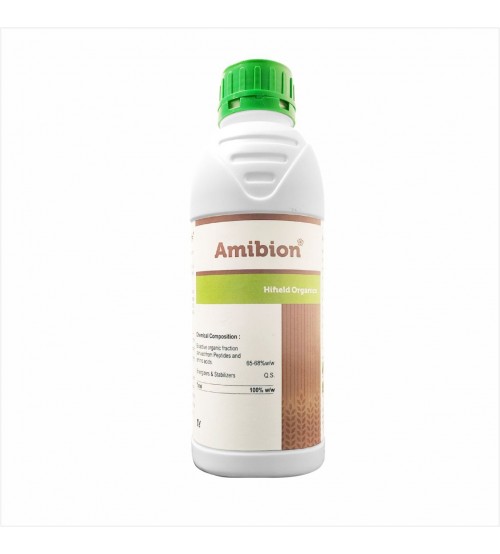 Amibion - (Peptide, Protein) 1 Litre
Brand: Hifield Organics Inc.
Categories: Bio Products, Plant Growth Promoter,
Availability: In Stock
Cash on delivery Availability: NO
Price:
Rs 1,320.00
Rs 995.00
Amibion - (Peptide, Protein) 1 Litre
Plant Growth Promoter
1 Litre Bottle Packing
Bio Products

Description:
Hifield's Amibion is an Amino Acid based bio Stimulant specially designed to increase flowering and stop flower dropping. It is organic source of Nitrogen and boosts immunity, vigour and Plant growth.

Dose: 1 to 2 ML / Ltr, Suitable for Drip, Foliar Spray, Drenching

Spray interval: Pre flowering/ Post Flowering every 15 days

No. of spray times: 2 times

Crops: All crops vegetable, flower gardens, orchards, turf grass, Fruits (Horticulture), Hydroponics, Green House Crops etc.

Country of Origin: India
Manufacturer Name: Hifield Organics Inc.
Manufacturing Address: Plot No G-39/16, Sector G, M.I.D.C WALUJ, AURANGABAD 431 136 (M.S.) India.