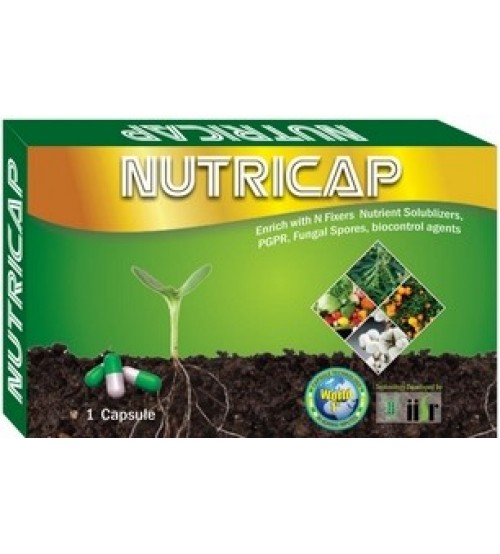 NUTRICAP 5 Capsule
Price:
Rs 1,930.00
Rs 1,165.00
NUTRICAP 5 Capsule
Biocapsule
Box pack of
1 gram in 1 capsule
Description:
Nutricap is world first Biocapsule technology enrich with PGPR Bacteria, Rhizobacteria, Azatobacteria & N-Fixture Bacteria which protect plant from soil born diese.

Unique Benefits:
Each capsule contain 109 propagule.

Enhance seed germination & suppress diseases.

Low cost, ecologically safe micro for all agriculture and horticulture crop.

Promote crop growth & increase in yield.

Long lasting viability up to 2 yrs.

Easy to use & handling (Drench, seed treatment & use in compost)
Application Method:
Dissolve 1 NUTRICAP Biocapsule in 100ml sterilized water & apply for seed treatment or dissolve 1 NUTRICAP Biocapsule in 1 liter sterilized water & mix with 50 liter water apply for 1 ton compost.