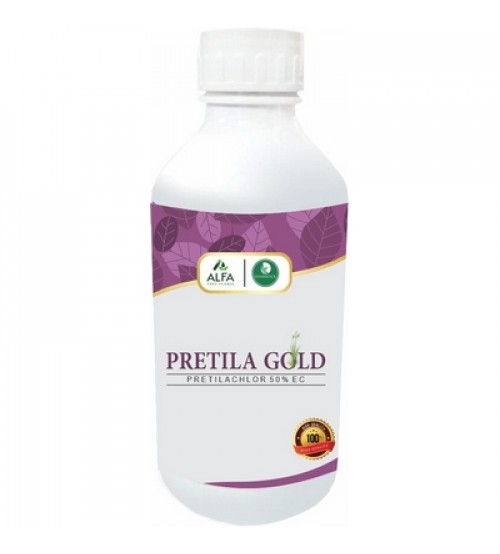 Pretilachlor 50% EC - 1 litre PRETILA GOLD (Shamrock)
Brand: Shamrock Overseas Limited
Categories: Insecticides/Pesticides, Herbicide/Weedicide,
Availability: In Stock
Cash on delivery Availability: NO
Pretilachlor 50% EC - 1 litre PRETILA GOLD (Shamrock)
Type - Herbicide
Pretilachlor 50% EC (PRETILA GOLD) is a broad-spectrum and selective herbicide.
Pretilachlor 50% EC is a pre-emergency herbicide for transplanted rice. It is applied before emergency of weeds, within 0-4 days of transplanting.

It controls almost all the weeds (annual grasses, Sedges and broad-leaved weeds) in rice.

It is very economical with its broad-spectrum activity and low use rate. It is easy to use and give long duration control.

It dissolves quickly and spreads Fast after application. It is very safe to rice crop as compared to other recommended herbicides.

It has no phytotoxic effect on any variety of rice when used as recommended.

No residual effect on the subsequent / follow crop.

Good compatibility for mixtures with other herbicides.





Recommended Crop

-

Paddy



METHOD & TIME OF APPLICATION

It can be used as foliar spray by using Knapsack Sprayers fitted with Flat Fan or Flood Jet Type of Nozzle.

Add recommended quantity of Pretila Gold into little amount of water and mix well. In the last add remaining full amount of water and mix it well by continuous steering and spray uniformly immediately after transplanting to 4 of days of transplanting. Keep 2-3 cm standing water in the crop field up to 5 days after application.



Safety

Do not spray during Foggy climate.

Use clean water for preparing spray solution.

Wear safety equipment's such as gloves, aprons, masks, etc..

Choose the correct nozzle for spray.

Spray in the direction of wind.

Avoid drift of spray into adjoining crop field.

Do not smoke, drink, eat and chew anything while spraying.

Avoid contact with mouth, eyes and skin.

Avoid inhalation the spray mist, fog and vapors.

Take bath properly after application.

Antidote – No specific antidote is known. Treat symptomatically.
Manufactured by: Alfa Crop Science Pvt. Ltd.
Click here to see Guarantee / Warranty of this Product.



Other Known Brands for Similar Formulations:
Parachlor 24 (Zuari), Rhino (Nagarjuna), Paranex (Maktheshim Agan), Swat (SWAL), ParQ (Biostadt), Gramoxone (Syngenta), Paraforce (HCL), Weedax (CIL), Uniquat (UPL), Kapiq (Krishi Rasayan).