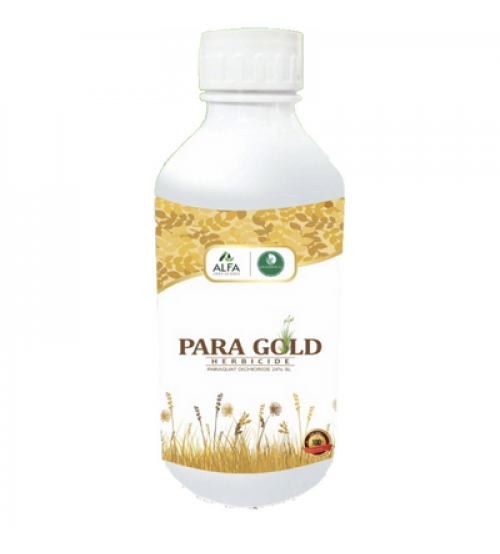 Paraquate Dichloride 24% SL - 1 litre PARA GOLD (Shamrock)
Brand: Shamrock Overseas Limited
Categories: Insecticides/Pesticides, Herbicide/Weedicide,
Availability: In Stock
Cash on delivery Availability: NO
Price:
Rs 1,000.00
Rs 539.00
This product has a minimum order quantity of 5
PARAQUAT DICHLORIDE 24% SL - 1 litre PARA GOLD (Shamrock)
Product Type - Herbicide
Paraquat Dichloride 24% SL (Para Gold) is broad spectrum, non selective & contact herbicide containing 24% Paraquat dichloride A.I which effectively controls broadleaved weeds & grasses. During photosynthesis superoxide generated, which damages cell membranes and cytoplasm

Mode of Action - Non-Selective contact herbicide, absorbed by the foliage, with some translocation in the xylem.
Dosage - 400- 1500ml per acre depending on the severity of the pest attack.
Disclaimer:
For agriculture and Gardening use only. The product is beyond our control hence we are not responsible for any damage.

Please note , the dosages given here are just for reference – We do not take any responsibility of the exact dosage and we do not provide any schedule for your crops, plant or trees.
Manufactured by: Alfa Crop Science Pvt. Ltd.
Click here to see Guarantee / Warranty of this Product.



Other Known Brands for Similar Formulations:
Parachlor 24 (Zuari), Rhino (Nagarjuna), Paranex (Maktheshim Agan), Swat (SWAL), ParQ (Biostadt), Gramoxone (Syngenta), Paraforce (HCL), Weedax (CIL), Uniquat (UPL), Kapiq (Krishi Rasayan).