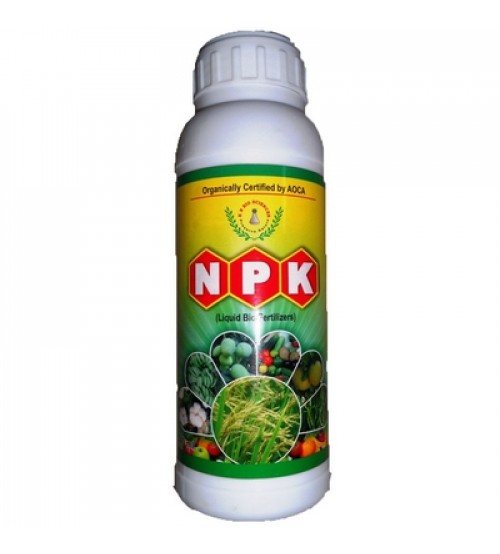 NPK 500 ml
Price:
Rs 290.00
Rs 185.00
This product has a minimum order quantity of 50
NPK 500 ml
Liquid consortium of Azotobactor(N), PSB(P) and Frateuria Aurantia (K)
Bio Fertilizer
500 ml Bottle Packing
Bio Product
Click here to see Organic Certificates of K N Bioscience

Description:
NPK is a Liquid NPK biological consortium. It contains Azotobactor(N), PSB(P) and Frateuria aurantia (K) in equal proportions. It is highly effective in results and prove highly favorable for plant growth. It fixes atmospheric nitrogen, solubilize existing soil phosphates and mobilize soil potash.
It is also used for implementing growth promotion and induced systemic resistance in Cotton, Chilies, Paddy, Groundnut, Castor, Sunflower, Maize, Tomato, Brinjal, Turmeric, Pulses, Oil Seeds, Citrus, and other crops.

Specifications:
Soil Application: Use 2 liter / 2-4 kgs for drenching or through drip or 200 kgs of any organic manure and apply in the sowing rows in last plough along with irrigation.
Specifications: 2 x 108 CFU / gram or ml.
Dosage: 3 grams Per 1 liter of water .