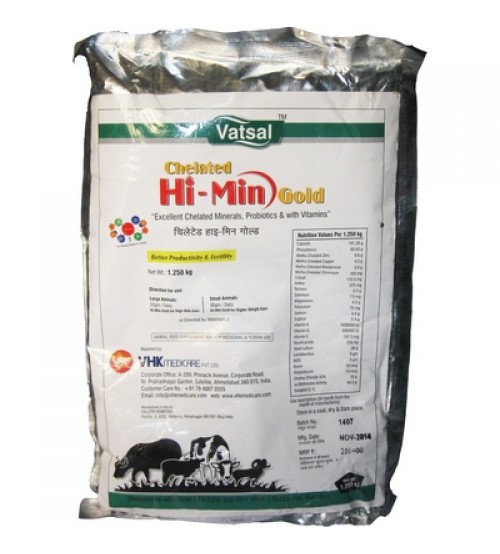 Vatsal Hi - Min Gold Chelated 1.250kg
Brand: VHK medicare Pvt. Ltd.
Categories: Cattle Care, Mineral Mixture,
Availability: In Stock
Cash on delivery Availability: NO
This product has a minimum order quantity of 2
Vatsal Hi - Min Gold

Chelated 1.250kg
Minerals Absorption Depends on
Quality of Minerals and not on Quantity

Chelated Minerals :Absorption can be increased upto 90%
The right choice of minerals for better absorption fortified with Live Yeast Culture

Ordinary Minerals : Only 30 to 50% minerals are absorbed, depending upon the animals status and source of minerals.
Special Features : Calcium and Phosphurus Ratio is 2:1, Yeast culture content is 20g,
Magnesium content is 4.5 g and metho cheated manganese content is 3.9g.
Benefits of Chelated minerals
Improves milk production.

Greater milk fat content.

Helps maintain peak milk production.

Improves fertility/reproduction.

Regularizes oestrus cycle in animals.

Increases disease resistance/immunity.

Improves digestion and overall health of the animal.

Chelated HiMin is fortified with
20 Gram Live Yeast Culture
Live Yeast Culture helps to prevent
acidosis and improved rumen digestion.

Direction for use:
Small Animals: 30gm / Daily
Hi-Min Gold for Higher Weight Gain
Large Animals: 50gm / Daily
Hi-Min Gold for High Milk Gain



Packagings

: 1.250 kg
Guarantee / Warranty is not at all applicable for this product. But we will try our best to resolve the problem for the products which are not covered under Guarantee / Warranty.