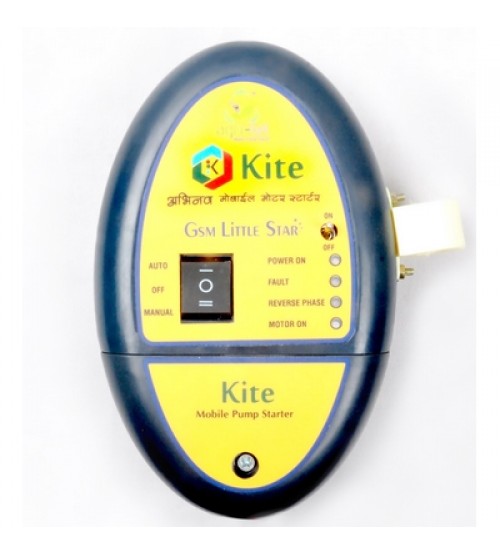 Kite Little Abhinav Regulator (Economic Model)
Brand: KiteHitech
Categories: GSM Mobile Starter, Cell Phone Motor Starter,
Availability: In Stock
Cash on delivery Availability: NO
Price:
Rs 6,499.00
Rs 6,399.00
Kite
Little Abhinav Regulator (Economic Model)
Description:
Kite Hitech introduces India's first GSM mobile starter with IVRS system. Using this unique device you can switch ON OFF your motor by using your mobile phone through SMS, CALL, MISSED CALL or ANDROID APP. The Economic model introduced by Kite Hitech functions same ABHINAV GSM Mobile starter without display.
The GSM Mobile starter allows operation in Automatic mode and manual mode. Device is compatible with any mobile service provider as per availability of network at your place. 4 registered user can operate a starter. Along with just ON OFF operation our product gives you flexibility of settings timers for different operational and incidental requirements through simple SMS coding.

Protection Provided:-
Use of GSM Mobile starter protects your motor in following cases.
1. Under Voltage 2. Over voltage 3. Over load 4. Under load 5. Single phase protection

Features of Abhinav Little Economic GSM Mobile starter:-
1. Android APP 2. Battery Back up 3. Economic 4. Easy Installation 5. Cyclic timers 6. Remote Operation 7. Compatible with any type of motor, starter 8. IVRS system available 9. Regional Language Support 10. Operation through registered mobile numbers only

Advantages of using GSM Mobile starter:
Use of GSM Mobile starter saves
1. Time 2. Money 3. Electricity 4. Manpower 5. Use of GSM mobile starter protects human beings from fear from wild animals

Application of GSM Mobile starter-
1. Industrial 2. Farming 3. Gardening 4. Commercial complexes 5. Residential complex

Technical specifications:-
Technical specifications:- PARAMETER
VALUE FOR SINGLE PHASE
VALUE FOR THREE PHASE

OPERATING VOLTAGE

150 V – 270 V

300 V – 470 V

RESISTIVE LOAD

20 AMP

10 AMP

LOW VOLTAGE CUT OFF

170 V

360 V

HIGH VOLTAGE CUT OFF

270 V

470 V

OPERATIONG VOLTAGE FOR SENSOR

MAX 30 V DC

CALIBRATION ACCURACY

+/- 2.5 %
Guarantee / Warranty:
1 Year full replacement Guarantee on this product.