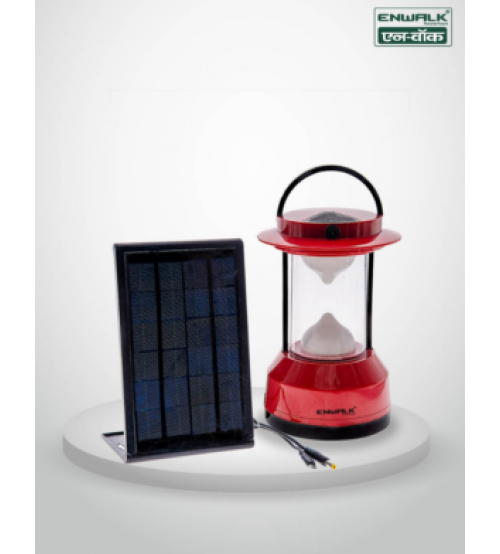 Enwalk LED Solar Lantern Solight 42
Brand: Arham Electronics and Electricals
Categories: LED Rechargeable Torches & Bulbs, Solar Products, Portable Solar, Portable Solar,
Availability: In Stock
Cash on delivery Availability: NO
Price:
Rs 1,575.00
Rs 1,499.00
Enwalk LED Solar Lantern Solight 42
Description:
Customary oil lamps are a relic of times gone by. Welcome to the universe of simple & advantageous LED lighting that is both long run and convenient. ENWALK LED SOLAR LANTERN brightness helps you to see maximum viewing distances & best for long lasting use. Huge Energy Savings, best usage for green house farming.

Features:
The LED Solar Lantern with Li-ion battery 3.7V, 2000 mAh. The battery has 500 Rechargeable cycles. ENWALK has stronger and best housing material used with rainfall protection. Easy to carry with a handle.
Fast-Charging: ENWALK Solar LED lamp will get charged when it is placed in sunlight with the charging time of one full sunny day.
Battery: It has a powerful Lithium-Ion battery.
Applications: ENWALK Solar LED lantern is the perfect lighting backup during power cuts and can be used as a perfect world fills the need when required like travel, outdoors, light cut at home, night lamp in your Drawing room, balcony, Home, Shops, Hospital, Parking.
Power backup: ENWALK solar LED lamp will provide light up to 8 hours.
Includes: 1 LED Solar Lamp
Wattage: 5 watts
Specification:
Material: Engineering plastics
Working Time: Low 8 hours, High 5 hours
LED: 130 lumenswatt
Light Source: 24 Super bright LED
Protection: Overcharge / Discharge Protection
Solar Panel: 6V 3W
Size: 19L*13W*13H cm
Guarantee / Warranty:
6 months warranty on the product against manufacturing defects.