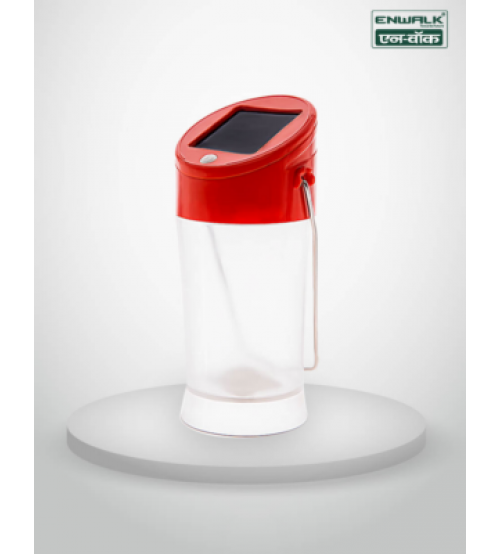 Enwalk LED Mini Solar Lantern SL-45
Brand: Arham Electronics and Electricals
Categories: LED Rechargeable Torches & Bulbs, Solar Products, Portable Solar, Portable Solar,
Availability: In Stock
Cash on delivery Availability: NO
Price:
Rs 699.00
Rs 599.00
Enwalk LED Mini Solar Lantern SL-45
Description:
The ENWALK solar lamp SL45 is worked for the entire family to partake in together. In the case of illuminating your home they produce Less Heat, More Light. For greenhouse farming as they provide optimal lighting of the plants. Huge Energy Savings, Equivalent light reflection through shape reflectors gives you a long lasting performance.

Features:
Mini Solar lantern with Li-ion battery 3.7V, 1200 mAh. The battery has 500 Rechargeable cycles. It is designed with stronger and best housing material used with rainfall protection. Easy to carry with a handle.
Fast-Charging: Mini Solar lantern will get charged when it is placed in sunlight with the charging time of one full sunny day
Battery: It has a powerful Lithium-Ion battery, 1200 mAh
Applications: ENWALK Solar LED lantern is the perfect lighting backup during power cuts and can be used as a perfect world fills the need when required like travel, outdoors, light cut at home, night lamp in your Drawing room, balcony, Home, Shops, Hospital, Parking.
Power backup: ENWALK solar LED lantern will provide light up to 8 hours after power failure.
Includes: 1 LED Solar Lamp
Wattage: 0.5 watt

Specification:
Material: Engineering plastics
Working Time: Low 8 hours, High 5 hours
LED: 130 lumenswatt
Light Source: 1 Super bright LED
Protection: Overcharge / Discharge Protection
Solar Panel: 6V 3W
Size: 19L*13W*13H cm
Weight: 0.59 Kg
Guarantee / Warranty:
6 months warranty on the product against manufacturing defects.