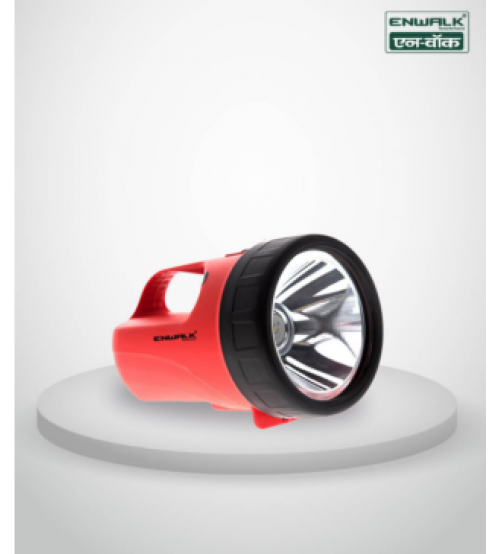 Enwalk LED Flash Light BR 123
Price:
Rs 1,250.00
Rs 799.00
Enwalk LED Flash Light BR 123
Description:
Enwalk BR-123-Li torch is for those who work outdoors and need to create an intense beam of light quickly to locate someone or something. This is a light, portable tactical torch, which will have a super-high lumen count for maximum brightness. The torch is easy to attach to your shoulder or bag too.

Features:
It's a Rechargeable LED flash light with Li-ion battery 3.7V, 2000 mAh. The battery has a life of 500 Rechargeable cycles. Best housing material used with rainfall protection. Easy to carry the torch with a belt.
Fast-Charging: ENWALK LED Rechargeable torch will get charged when it is connected to electricity. With the charging time of 8-10 hours.
Battery: It has a powerful Lithium-Ion battery.
Applications: ENWALK Rechargeable LED flash light is the perfect lighting backup for an outdoor visit. Use for all outdoor application such as security, Shops, Hospital, Parking, walking, trekking, etc.
Power backup: ENWALK LED rechargeable torch will provide light 5 to 8 hours after fully charged
Includes: 1 LED rechargeable torch
Wattage: 3 watt

Specification:
Weight: 0.59 Kg
Dimensions: 18 cm
Battery: Li-ion 3.7V, 2000mAh
Color variation: Yellow, Orange, Red (Note: Color may vary)
Material: Engineering plastics
Working Time: Low 8 Hours, High 5 Hours
LED: 130 lumenswatt
Light Source: 1 Super bright LED
Protection: Overcharge/ discharge protection
Size: 19L*13W*13H cm

Guarantee / Warranty:
6 months warranty on the product against manufacturing defects.