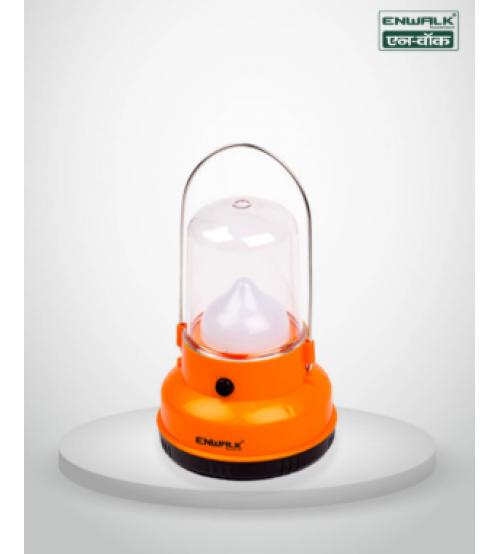 Enwalk LED Emergency Light Brighto 121
Enwalk LED Emergency Light Brighto 121
Description:
The Enwalk BR-121Li lantern is the perfect gift for any family member or who loves camping. This product features an incredible turbo charge mode by using the DC port, which is able to get the built-in 2000mAh lithium-ion battery fully charged in less than 7 hours. This lantern has incredible feature that is three lighting mode high up to 65 lumens, low over 25 lumens and SOS flashing mode for emergencies.

Features:
It's a Rechargeable LED Emergency Light with Li- ion battery 3.7V, 2000 mAh. Battery has 500 Rechargeable cycles. Stronger & best housing material used with the rainfall protection. Easy to carry with a handle.
Fast-Charging: ENWALK LED emergency light will get charged when it is connected to an electricity charger, with the charging time of 8-10 hours.
Battery: It has a powerful Lithium Ion battery.
Applications: ENWALK LED emergency light has multiple usage as the perfect lighting backup during power cuts and can be used as an Emergency light and night lamp in your Drawing room, balcony, Home, Shops, Hospital, Parking.
Power backup: ENWALK LED emergency light will provide light up to 8 hours after power failure.
Includes: 1 LED emergency light
Wattage: 5 watt

Specification:
Weight: 0.5 Kg
Battery: LI-ION
Brand: Enwalk
Select Color: Orange, Red, Yellow (Color may very)
Material: Engineering plastics
Working Time: Low 8 hours, High 5 hours
LED: 130 lumenswatt
Size: 19L*13W*13H cm
Light Source: 30 Super bright LED
Protection: Overcharge/ discharge protection

Guarantee / Warranty:
6 months warranty on the product against manufacturing defects.