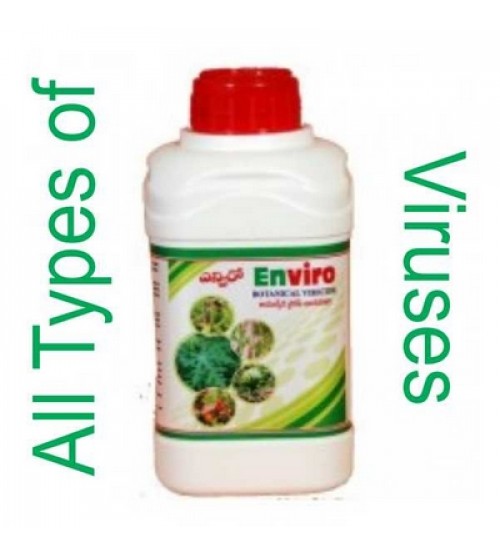 EnViro 500ml
Brand: YK Laboratories
Categories: Certified Organic Products, Virucide,
Availability: In Stock
Cash on delivery Availability: NO
Price:
Rs 800.00
Rs 590.00
EnViro 500ml
EnViro is the Phloem Friendly Botanical Viricide
Click here to see Organic Certificates of YK Labortories


Description:
Present Concept uprooting and destroying the virus affected plants is totally over ruled by ENVIRO + IMMUNO Regular sprays on infected plants helps in taking 30-50% marketable crops from infected plants.
Only Herbal Based Anti virus in the world can be used to preventive and curative action being herbal based no side effects immediate controls wide range of Viruses. Very effectively controls of 81 (approx) types of viral diseases.
No Chemical either in stabilizer or preservative is used, ideal for IPM Strategies can be used till the last day of harvest.

Enviro use for all Types of Viruses.

The Results are more prominent on the reproductive parts of the flower and fruit.

En viro Mode Of Action:-
En viro enters the plant through the stomata opening and trans located into the plant system through the vascular bundles. it entering effected plant cell encapsulates the viron particles.
It reduces the separation of virus particles in protein and Nuclei particles.
In healthy plants En viro forms protective layer under the cuticle and the damaged tissues stopping the entry virus in the plant cell system.

Ingredients:
Acorus calamus.

Eclipta Alba.

Datura metal.

Holy basil.

Boer Diffuse.

Cow Urine…
Dose:
Curative:
2 Sprays at 4 days interval & then repeat the spray for every 15 days...
Preventive:
Spray at every 15 Days ,Repeat every 15 Days..
Application Method: