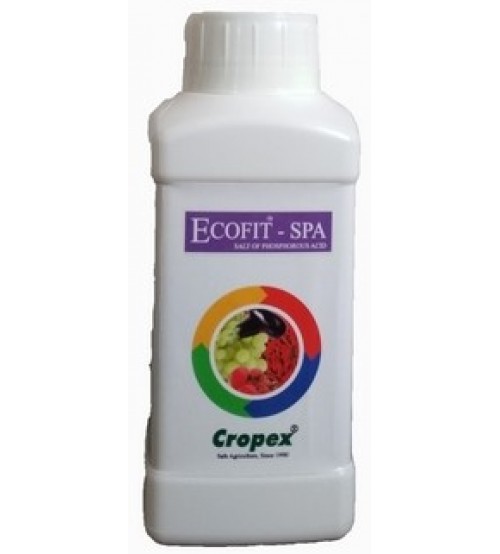 Ecofit-Spa Fungicide 250 ml
Brand: Cropex
Categories: Bio Products, Bio Fungicides,
Availability: In Stock
Cash on delivery Availability: NO
Price:
Rs 320.00
Rs 249.00
Ecofit-Spa Fungicide 250 ml
Description:
Application:
To control Damping off, Downy mildew, Leaf spot, Mahali (rot), Root & Collar rot, Fruit rot, Anthracnose, Alternaria blast, Phytophtora (foot rot) etc on Grapes, Onion, Chilli, Brinjal, Tomato, Pomegranate, Areca, Black Pepper, Citrus, Cucurbits, Gherkin, Potato, Ornamental (rose), Pineapple, all types of vegetables, plantation crops & in Nursery stage.

Composition :
Total Solids :(Comprising of salts of phosphorous acid, salts of fatty acids & potassium humate)
40.00% (Min.) w/v Emulsifiers & functional media 60.00% (Max.) v/v

Note :The active ingredients are not listed under CIB or FCO. Percentages of active constituents are subject to change or vary depending upon the storage conditions and exposure to heat or sunlight.

Direction of use:
Shake well before use. Dilute 2-3 ml of Biothrin in one litre of water & spray. Repeat the spray once in every 7-10 days.

Recommendation:
Grapes: 600ml per acre. To be applied after pruning when buds are sprouted.
Citrus: 20-30ml per plant. Apply Pre & Post Monsoon
Coconut & Arecanut: 2ml per Litre. Drench the Inflorescence & fronds. Apply Pre & Post Monsoon
Black Pepper: 10-15ml per vine. Apply Pre & post Monsoon
Tomato, Brinjal, Chilli & other Vegetables: 2ml per liter. Spray during high humidity & low temperature weather condition.