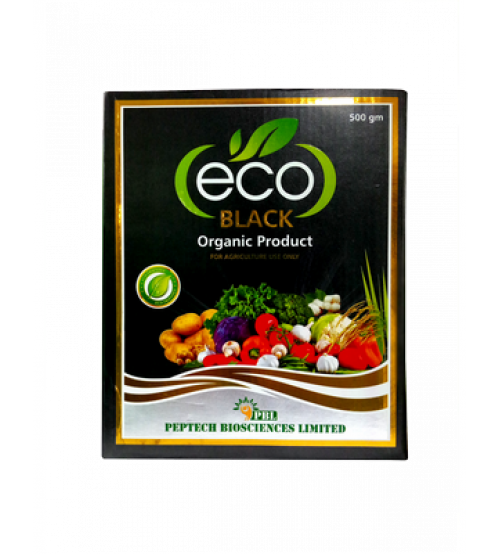 Eco Black (Potassium Humate) 500 grams
Brand: Peptech Biosciences Limited
Categories: Certified Organic Products, Plant Growth Stimulator,
Availability: In Stock
Cash on delivery Availability: NO
Price:
Rs 299.00
Rs 249.00
Eco Black (Potassium Humate) 500 grams
Potassium Humate 95%
Flakes Form
Plant Growth Stimulator
500 grams Box Packaging
Click here to see Organic Certificates of Peptech Biosciences
Description:
Eco-black is rich in potassium with humic acid as bioactive agent. The humic content helps the plants to increase the digestibility of inputs, thus cuts down the expense on pesticides and fertilisers. The valuable reason to use this product is that it increases the yield quantitatively by 15-25%.

Advantages:
Activates the soil microflora, thus protects the environment.

Improves the absorption of nutrients in plants.

Reduces the accumulation of nitrites and pesticides by 20-30%.

Increases the content of vitamins and proteins in the plant.

Reduces the soil structure by decreasing the acidity level and heavy metals.

Stimulates the overall growth of the plant.
Dosage:
Soil application: 500-1000 grams / acre
Foliar: 200-300 grams / acre