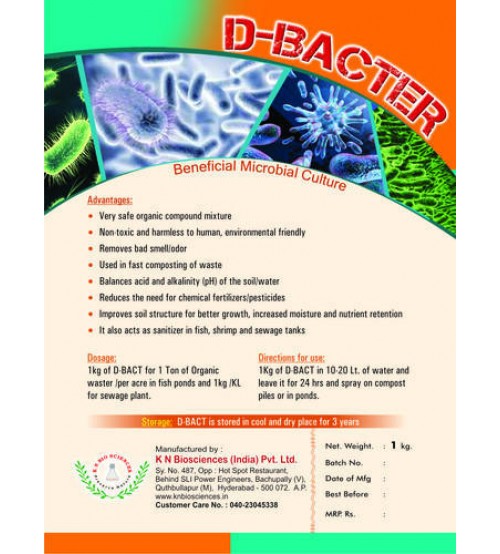 D Bact 1 Liter
Decomposing culture
1000 ml Bottle packing
Description:
DBACT is a consortium of decomposing microbial cultures with high performance.

Decompose of Press mud, Poultry manure, & agriculture wastes like banana leaves, sugarcane waste, Paddy straws and other farm wastes, kitchen waste, etc.

It decomposes within 40-45 days only i.e. depends on waste material.

D-bact is not only for decomposing, it prevent and control soil born fungal and bacterial diseases and even soil pest.

D-bact increases organic carbon and helps in healthy plant growth.

Usage & Dosage:
Use 1 Liter / kg of D-bact mix with 200 Liter of (if possible add 1 kg black jiggery solution) water and spray / spread on 1-2 MT of press mud/poultry manure / agriculture waste material.