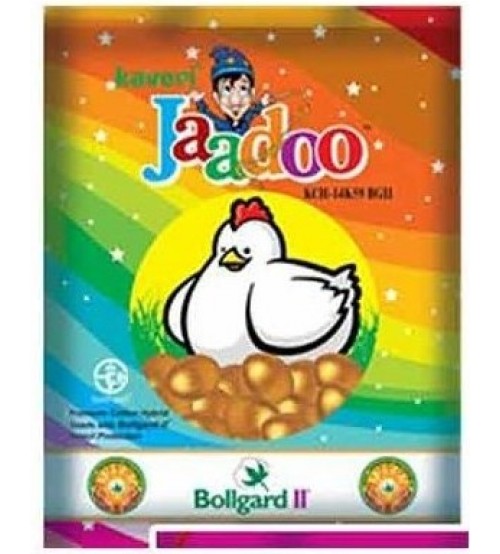 Cotton Kaveri Jaadoo BG II
Brand: Kaveri Seed Company Ltd.
Categories: Seeds, Cotton Seeds,
Availability: In Stock
Cash on delivery Availability: NO
This product has a minimum order quantity of 10
Cotton Kaveri Jaadoo BG II
(KCH-14K59 BG II)
Bollgard II
Premium Cotton Hybrid Seeds with Bollgard II Technology

This Packet Contains:
475 grams of KCH-14K59 BG II Cotton Hybrid Seeds

1 Packet is sufficient for sowing in 21,750 Square Feet field (approximately 1 Bingha)

Recommended for irrigated cultivation in Maharashtra, Gujarat, Madhya Pradesh, Chhattisgarh, Orissa, Andhra Pradesh, Telangana, Karnataka, Tamil Nadu, Haryana, Punjab & Rajasthan.
Variety: Jaadoo BG II

Plant Habit: Erect

Irrigation Requirement: Rainfed / Irrigated

Crop Duration Medium: 155-170 days

Sowing Season: May-June

Sowing Spacing: R-R: 4 ft; P-P: 1.5 ft

Specialty: Variety good for close spacing sowing

Boll Size and Shape: Medium

Boll Weight: 6 - 6.5 grams

Seed rate: 600 - 1200 grams / Acre

Reaction to sucking pest: Resistant
Click here to see Guarantee / Warranty of this Product.