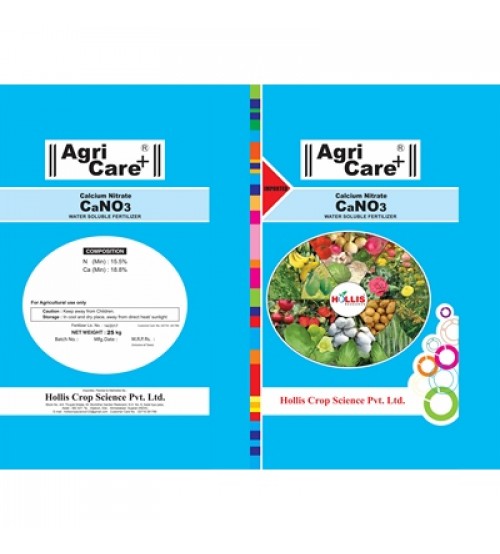 Calcium Nitrate 25kg
Delivery at Transport Office only.
Brand: Hollis Crop Science Pvt. Ltd.
Categories: Fertilizers, Calcium Nitrate (Water Soluble),
Availability: In Stock
Cash on delivery Availability: NO
Price:
Rs 2,000.00
Rs 1,849.00
This product has a minimum order quantity of 4
Agri Care+ Calcium Nitrate
25kg Packing
Drip Grade
Imported
100% Water Soluble Fertilizer

Special Note:
As this is bulky product, It will not be Home Delivered by post parcel.
Delivery will be done at your nearest town's transport office.
Farmer has to arrange transportation & bare extra transportation cost from transport office to his place.
Bilty number and transport office address will be sent by SMS to farmer.
Copy of Bilty will be also sent by email to Farmer (if farmer has email id).
Composition :
Calcium Nitrate
Nitrogen (Min) : 15.5%
Calcium (Min) : 18.8%

Storage : In cool and dry place, away from direct heat / sunlight
For Agriculture Use Only
Imported & Marketed By : Hollis Crop Science Pvt. Ltd.

Also available in 1kg packing, search for it in this Website.


Click here to see Guarantee / Warranty of this Product.