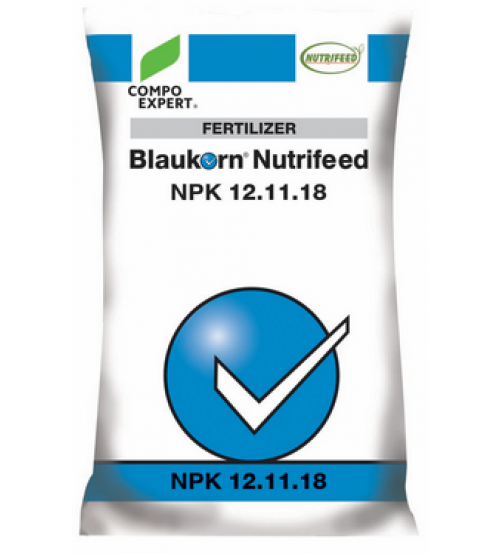 Blaukorn Nutrifeed N.P.K. 12:11:18 1 Kg
Brand: Nutrifeed
Categories: Fertilizers, N.P.K. (Water Soluble), Speciality Fertilizers,
Availability: In Stock
Cash on delivery Availability: NO
Price:
Rs 150.00
Rs 143.00
Blaukorn Nutrifeed N.P.K. 12:11:18 1 Kg
Description:
Specification:
A complete complex fertilizer containing primary (N:P:K::12:11:18) Secondary (Mg:S::1.2:7.6) & micronutrients (Zn, Fe, B)

Features:
Efficient source of nitrogen, containing both- Ammonical & Nitrate forms.

High content of water soluble phosphate for efficient nutrient use.

Creates acidic environment (PH-5-5) in the root zone for maximum availability of phosphorous & micronutrients (as-Zn,Fe,Cu,Mn) from the soil

Chloride free SOP based potassium -suitable for all crops including chloride sensitive crops

Low salt index for maximum root & shoot growth

Excellent colour recognition by completely blue coloured granules - German colour coated

High crushing strength with 98% + water solubility.
Application Rate:
Drenching: Drenching at vegetative growth stage @ 2.5 - 3 grams / litre of water or as per crop requirement

Soil application: @ 5 - 10 grams / litre per plant
Composition:
NPK fertilizer containing (percent by weight)
Moisture maximum
1.5
Total Nitrogen (Ammonical & Nitrate) minimum
12.0
Ammonical nitrogen available minimum
7.0
Phosphorous (as P2 O5) water soluble minimum
11.0
Phosphorous (as P2 O5) water soluble minimum
8.0
Potassium (as K2O) minimum
18.0
Magnesium (as Mg) minimum
1.0
Sulphatesulphur (as S) minimum
7.5
Total chlorides (as CL) maximum
1.0
Note: Our recommendation as per our trails. However, dosage and application will depend on soil analysis and crop growth stages.
Caution: Do not undertake foliar spray, when crops are under drought or water stress condition Spray only in early morning or evening hours.
Packing- 1 Kg

Click here to see Guarantee / Warranty of this Product.