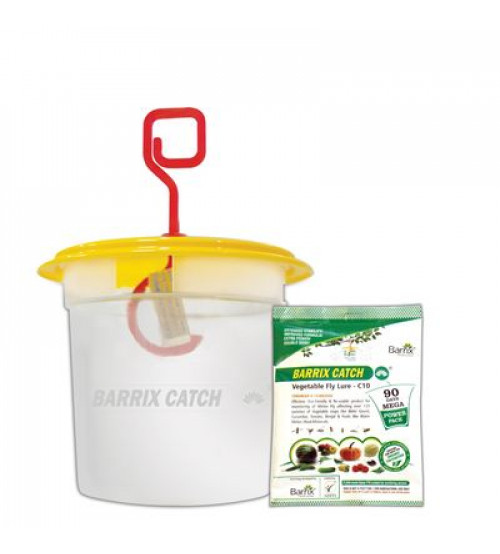 Barrix Catch Vegetable Fly Trap Set
Price:
Rs 184.00
Rs 169.00
This product has a minimum order quantity of 5
Barrix Catch Vegetable Fly Trap Set
Description:
Trap is highly effective research based scientifically designed which is Design Patent Protected. Easy to assemble and hook in every farm fields. Easy in maintenance for removal of dead flies.
Container can hold 5400 Dead flies.
This product is a pest fly trap, which should be used with pheromones lure to attract and trap pests of the Bactrocera cucurbitae species of 226 sub species (commonly known as Melon Fly), which is a major pest of high risk which causes pre-harvest damages, and this pest cannot be controlled by any pesticide.
Recommend farmers to use Barrix Catch Vegetable Fly trap along with Barrix Catch Vegetable Fly Lure while cultivating following crops:
Fruits: Lemon, Orange, Jack Fruit, Passion fruit, Indian Almond, Kiwi fruits, Melons like Water Melon, Musk Melon, Pear Melon.
Vegetables: Pumpkin, Cucumber, Chayote, Chillies, Capsicum, Tomato, Brinjal.Gourds like Bottle gourd, Ivy gourd, Bitter gourd, Snake gourd, Ash / White gourd, Gooseberry gourd (gherkins), Ribbed gourd, Sponge gourd, Peas like French Beans, Green Beans, Indian Peas, Pigeon peas.
Commercial crops: Sun Flower, Maize.