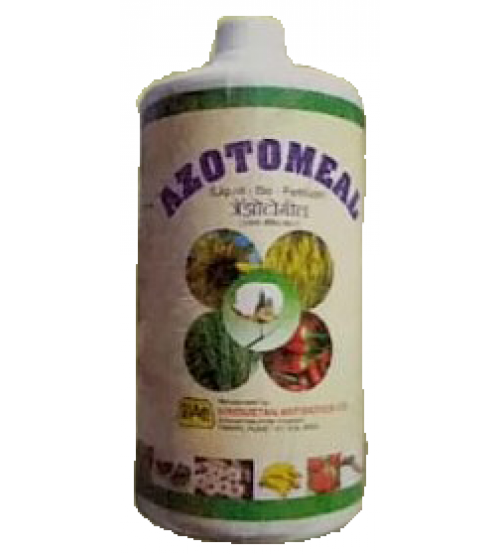 Azotomeal - Nitrogen Fixation Bacteria 1 Litre
This product has a minimum order quantity of 5
Azotomeal - Nitrogen Fixation Bacteria 1 Litre
Azotobacter
Bio Fertilizer
1 Liter Bottle packing
Description:
Azotomeal contains a concentrate of soil origin in the dormant form to the concentration of 108 CFU / ml. It also contains preserved fermented metabolites necessary for plant growth.

Benefits:
Seed treatment with Azotomeal helps in increased seed germination in short time and favours vigorous root growth.

Azotomeal helps crop to utilize atmospheric Nitrogen.Thus there is saving of chemical fertilizers.

Azotomeal improves physical character of soil and helps to maintain fertility of soil.

Azotomeal increases crop yield by 20-25%

Dosage:
Soil application: 3ml of Azotomeal is to be diluted in 1 litre of water. Then spray
on soil at the root zone before irrigation. Irrigation is must after application of Azotomeal.
Seed treatment: 3 ml of Azotomeal is diluted in 1 litre of water. Dip the seeds in the solution for 20 minutes. Dry the seeds under shade and sow as per usual practice.
Transplanting: 2-3 ml of Azotomeal is diluted in 1litre of water, before transplanting the seedlings are dipped in this solution.
For Kitchen Gardening: Dilute 1ml of Azotomeal in 1litre water and spray.
For Field Crops: Dilute 2 ml of Azotomeal in 1 litre of water and spray.

Recommendation:
Azotomeal is recommended for use in:
Monocot crops like paddy, wheat maize etc.

Vegetables like Cabbage, Cauliflower, Potato, Brinjal, Chilly, Lettuce, Coriander

Cotton, Sugarcane, Tobaco, Pepper, Betelnut, Tea etc.

Banana, Mango, Grapes, Papaya, Watermelon etc.

Flowers & Ornamental Plants, Oil seeds etc.
Precautions:
Do not mix with any insecticide or fungicide.

Azotomeal is to be sprayed either in the morning or in the evening.

If seed are to be treated with insecticide / fungicide it should be treated so first. Then treat it with Azotomeal before sowing.

Keep away from direct sunlight, Insecticides and fungicides.

Do not keep the bottle cap open.

Toxicity:
Non toxic & eco friendly.