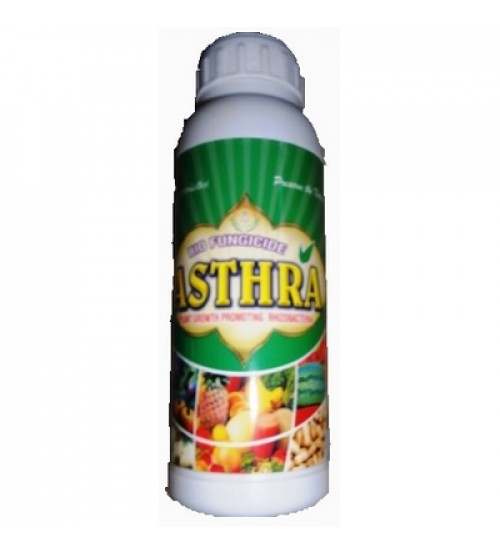 ASTHRA 500 ml
Consortium of Bacilli Species
Plant Growth Promoter
500 ml Bottle packing
Bio Product
Description:
Asthra is a liquid biological combination of plant growth promoting micro-organisms and biological controls. It contains high concentration of highly viable cells, which is in dormant stage and proliferate quickly after being applying fields.

Benefits:
Improves photosynthetic potential

Increases plant tolerance against pests

Improves physio, chemical & biological properties of soil.

Promotes growth and colonization of VAM

Helps in quick degradation of organic matter

Controls soil and air borne pathogens

Recommended Crops: All crops
Potency: 2x108 cells / ml

Application:
Seed treatment: Soak seeds for 20-30 mins in 1:100 dilution of Asthra before sowing.
Soil application: Dilute 1 Litre of Asthra in 50 Litre of water then incorporate in 1 ton of manure and broadcast over 1 acre.
Foliar spray: Dilute 3-5 ml in 1 Litre of water & spray 2-3 times at an interval of 15-20 days.

Precaution:
Don't mix with any chemical pesticides / fertilizers & store in shade.