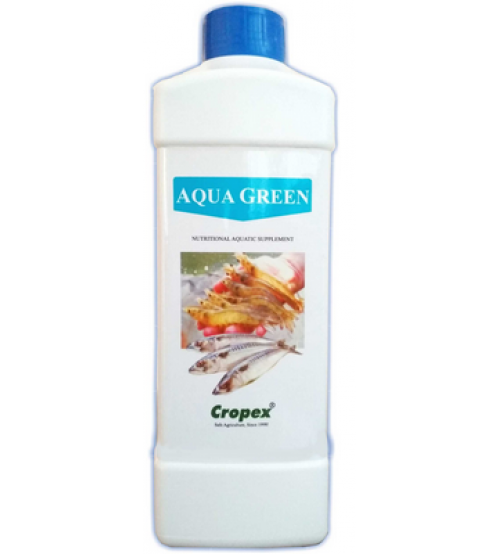 Aqua Green 5000 ml
Brand: Cropex
Categories: Fishery, Feed Supplement,
Availability: In Stock
Cash on delivery Availability: NO
Price:
Rs 3,500.00
Rs 1,799.00
Aqua Green 5000 ml
Click here to see Organic Certificates of Cropex
Description:
A Unique organic nutrient derived from highly bioactive source fortified with humic substances to stabilize Aquaculture Ecosystem. Humates being extracted from the highly bio-active organic substrate, inherently contain traces of several important nutrients. Typically following nutrients are present in Potassium Humate along with almost 18 to 22% Organic Carbon.

Composition
Ingredient Liquid
Potassium Humate : 12.00% w/w min.
(Including Traces of N, P, K, Mg, Mn & Ca)
Aqua media : 88.00% w/w max.
Total : 100.00%

Advantages
Increase in brood yield, through prophylactic treatment of fish eggs and larvae.

Improvement in growth and food utilization.

Improvement in condition, Strength and resistance to disease, wellness and vitality of culture, particularly during transportation.

Faster healing of ectoparasite infected fish through therapeutic medication.

Suppression of secondary infection.

Inhibition of outbreaks of primary infection through prophylactic application.

Detoxification of harmful metals and chemicals in water.
Dosage
4 Litre per 1 Acres of water area once in every week.

Shelf Life
5 years from the date of manufacture.

Antidote
No specific antidote. Treat symptomatically.

Dosage: 2 to 3 ml per litre of water.