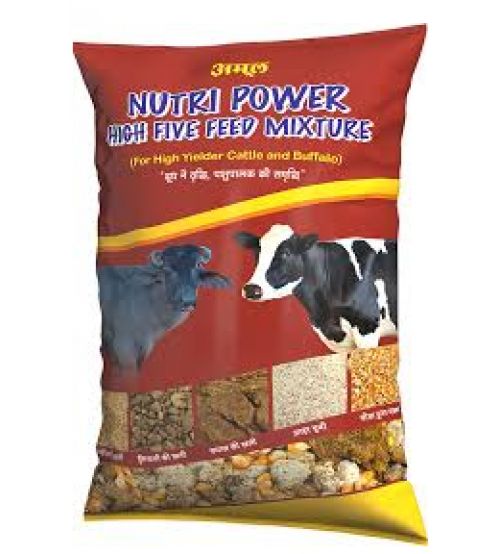 Amul Nutri Power HF Cattle Feed 50 Kg (Haryana)
This rate is Ex-Factory Haryana. Transportation will be extra.
Brand: Amul Cattle Feed
Categories: Cattle Care, Cattle Feed,
Availability: In Stock
Cash on delivery Availability: NO
Price:
Rs 1,765.00
Rs 1,475.00
This product has a minimum order quantity of 200
Amul Nutri Power High Five (BIS - I) Cattle Feed 50 Kg (Ex-Factory Sonipat, Haryana)
Description:
For High Yielding Cattle and Buffalo.

Feature:
Contains mixture of Ground Nut Cake, Soya Bean Cake, Cotton Seed Cake, Ground Maize and Tur (Red gram) chuni.

Cattle feed with 25% protein and 4% fat

Best cattle feed for cows/buffalos having 20 liters and above milk production
Application:
Cow- 1.5 to 2.0 kg for maintenance and 380 to 400 grams per liter of milk production

Buffalo- 2.0 kg for maintenance and 500 grams per liter of milk production

Or as per advice of Veterinarian / Animal Nutritionist
Packaging: 50 Kg HOPE Bag

Note:
This rate is the Ex-factory of Sonipat, Haryana. The loading, unloading and transportation charges will be extra and to be paid by customer before final dispatch.