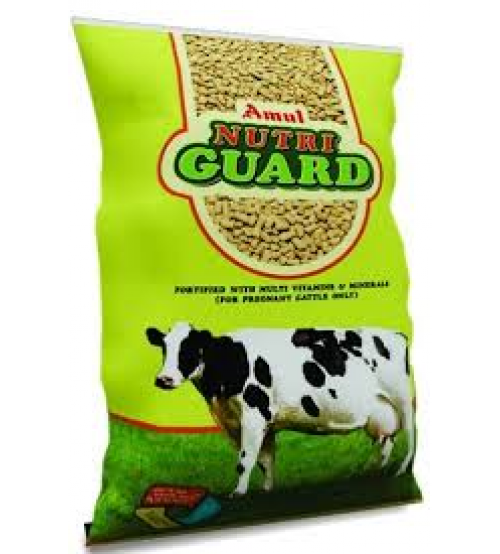 Amul Nutri Guard Pregnant Cow Feed 30 Kg (Haryana)
This rate is Ex-Factory Haryana. Transportation will be extra.
Brand: Amul Cattle Feed
Categories: Cattle Care, Cattle Feed,
Availability: In Stock
Cash on delivery Availability: NO
Price:
Rs 1,015.00
Rs 699.00
This product has a minimum order quantity of 335
Amul Nutri Guard Pregnant Cow Feed 30 Kg (Ex-Factory Sonipat, Haryana)
Description:
Cattle feed for pregnant animals (pellet form).

Feature:
Specially design for the last two month of gestation (dry period)

Fortified with Vitamin A, D3 and E to improve immunity during dry period

Fortified with herbs which develop udder and improve digestion during dry period

Having easily digestible carbohydrate sources to enhance energy concentration of feed which reduce the chances of negative energy balance after calving

Fortified with essential macro minerals that reduce postpartum deficiencies of the same.

Helps in early placenta removal

Protect from mastitis

Easy delivery of healthy calf
Application (per Day):
Cow: - 1.5 to 2.0 Kg for last two month of gestation.
Buffalo: - 2.5 to 3.0 Kg for last two month of gestation.
Packaging: 30 Kg HOPE Bag

Note:
This rate is the Ex-factory of Sonipat, Haryana. The loading, unloading and transportation charges will be extra and to be paid by customer before final dispatch.
This product is also manufactured in Erode (Tamilnadu), which is listed here on this portal as separate product.
You are adviced to order appropriate product after checking your nearest manufacturing unit.
You have to order product according to your nearest state to save the transportation cost.