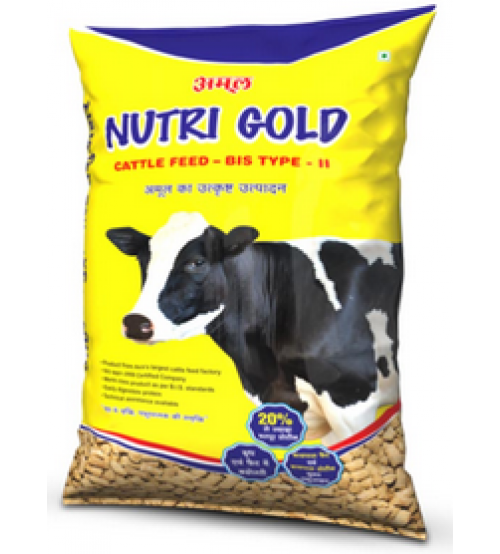 Amul Nutri Gold Cattle Feed 10 Kg (West Bengal)
This rate is Ex-Factory West Bengal. Transportation will be extra.
Brand: Amul Cattle Feed
Categories: Cattle Care, Cattle Feed,
Availability: In Stock
Cash on delivery Availability: NO
Price:
Rs 546.00
Rs 208.00
This product has a minimum order quantity of 1000
Amul Nutri Gold BIS Type-II Cattle Feed 10 Kg (Ex-Factory Jayrambati, West Bengal)
Description:
Best feed for cattle giving upto 15 liter milk / day

Product Specification:
Moisture % (Max.) – 11.0

Crude Protein (CP) % (Min.) – 20

Crude Fat % (Min.) – 2.5

Crude Fiber % (Max.) – 12.0

Silica % (Max.) – 4.0

TDN % (Max.) – 65.0

Urea, (Max.) – NA

Benefits:
Increase in milk production

Improvement in health of animal

Improvement in fat content of milk

Regularization of reproductive cycle and animal coming to heat at regular interval

Improvement in Immunity of animal

Prevention from metabolic diseases and deficiency syndromes

Dose Rate:
For body maintenance -1.5 kg per day and 300 grams per 1 litre milk
Packaging: 10 Kg HOPE Bag

Note:
This rate is the Ex-factory of Jayrambati (West Bengal). The loading, unloading and transportation charges will be extra and to be paid by customer before final dispatch.