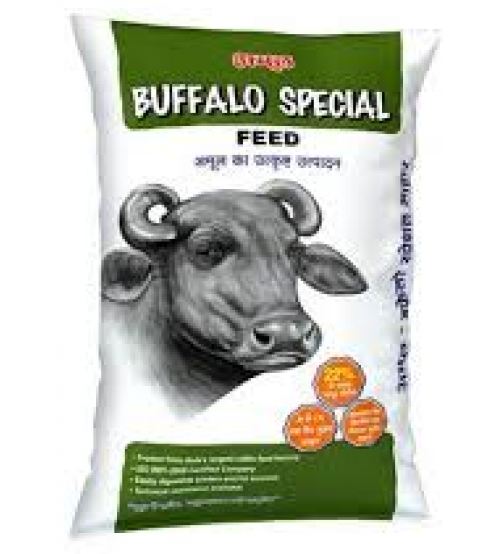 Amul Buffalo Special Feed 50 Kg (Gujarat)
This rate is Ex-Factory Gujarat. Transportation will be extra.
Brand: Amul Cattle Feed
Categories: Cattle Care, Cattle Feed,
Availability: In Stock
Cash on delivery Availability: NO
Price:
Rs 1,675.00
Rs 1,385.00
This product has a minimum order quantity of 200
Amul Buffalo Special (Pellet Form - OP) Feed 50 Kg (Ex-Factory Kanjari, Gujarat)
Description:
Best Replacement of Cotton Seed Cake with Bypass Fat, Bypass Protein, Minerals and Vitamins.

Feature:
Total digestible nutrients (T.O.N) is more than 85%

Cattle feed with 22% protein and 7-8% fat

Out of 7% fat 4% is bypass fat.

Best feed for high yielding buffaloes
Application:
Buffalo- 2.0 kg for maintenance and 500 to 600 grams per liter of milk production

Or as per advice of Veterinarian / Animal Nutritionist
Packaging: 50 Kg HOPE Bag

Note:
This rate is the Ex-factory of Kanjari (Gujarat). The loading, unloading and transportation charges will be extra and to be paid by customer before final dispatch.
This product is also manufactured in Sonipat (Haryana), Ahmednagar (Maharashtra), which are listed here on this portal as separate products.
You are adviced to order appropriate product after checking your nearest manufacturing unit.
You have to order product according to your nearest state to save the transportation cost.