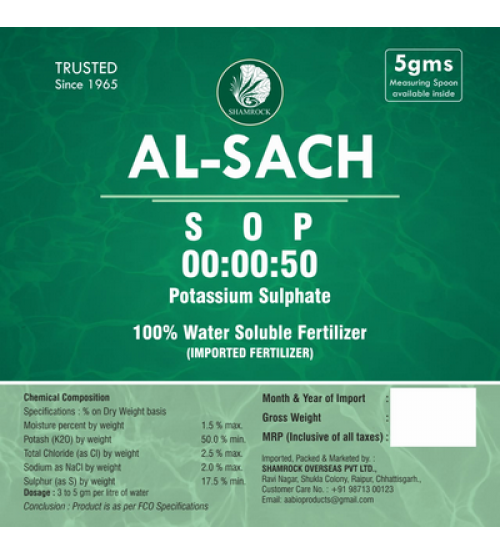 AL-SACH S.O.P. 00:00:50 250 grams
Brand: Shamrock Overseas Pvt. Ltd.
Categories: Fertilizers, S.O.P. (Water Soluble),
Availability: In Stock
Cash on delivery Availability: NO
This product has a minimum order quantity of 100
AL-SACH S.O.P. 00:00:50 250 grams
Description:
00:00:50 (Sulphate of Potash/ Potassium Sulphate) is a free flowing, 100% water soluble product and recommended to used for drip fertigation or foliar spray.

Features:
100% Water Soluble NPK Fertilizer, neutral salt and has no effect on soil acidity or alkalinity.

Free flowing Material

Imported Product

This Fertilizer contains Potassium (50%) and Sulphur (17.5%). Both these nutrients are essentials for Plant yield.

Ideal for use with drip irrigation or foliar spray

No Heavy Metals.
Advantages:
Plants receive high dose of K (Potassium)

This is the ideal fertilizer for the quality of food, feed and fiber.
Dose:
5gms per litre of water.
1kg per acre in 200 litres water
Recommended to be applied at Fruit Development stages.
Suitable Crops – All Vegetable and Fruit Crops, All flowering Plants. Recommended for agriculture and horticulture purpose.

Composition:
Sodium as NaCI by weight – 2.0% max.

Moisture by weight – 1.5% max.

Potash as (K2O) by weight – 50.0% min.

Total Chloride (as CI) by weight – 2.5% max.

Sulphur (as S) by weight – 17.5% min.
Nett. Weight: 250 grams
Click here to see Guarantee / Warranty of this Product.