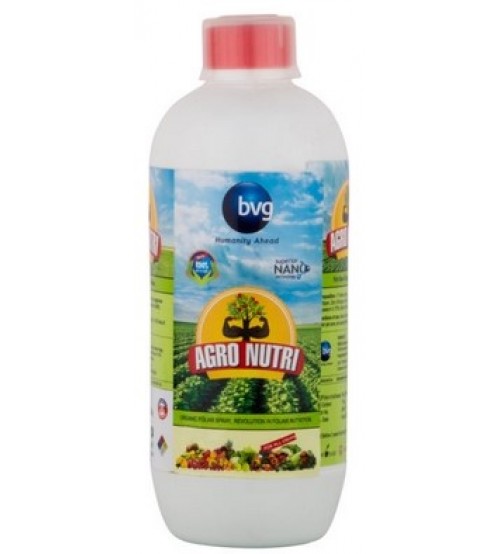 Agro Nutri 500 grams
Brand: BVG Life Sciences Ltd.
Categories: Bio Products, Plant Growth Promoter, Bio Fertilizer,
Availability: In Stock
Cash on delivery Availability: NO
Price:
Rs 1,620.00
Rs 1,399.00
Agro Nutri 500 grams
Amino Acid
Plant Growth Promoter
500 grams bottle packing
Bio products

Description:
BVG Agro Nutri is India's first unique plant bio stimulant, consisting of various micronutrients & amino acids which are needed for healthy growth of crops. It helps to boost the synthesis of enzymes and the process of photosynthesis leading to healthy crops, better growth and yields. It is effective foliar spray on a wide range of field crops, vegetables, ornamentals and plantation and fruit crops. Due to its nano-technology, it is quickly absorbed (within hours) by the plant and is effective
though in lower dosages.

Features:
1. Provides essential amino acids and micronutrients.
2. Absorbed by plants immediately.
3. Improves soil structure. Supplies organic nitrogen (glutamic acid) to the plant & soil.
4. Improves the stress tolerance levels of plants providing strength to the plant to grow fast and to
withstand the stresses like drought, pests and diseases.
5. Natural product, easy to handle, safe to the user and to the environment.

Benefits:
1. Deficiency of micronutrients is recovered with application of BVG Agro Nutri.
2. Helps to give immediate plant development boost at the time when it matters most in the vegetative stage, enabling the young plant to make most of its genetic material to maximize yields.
3. Helps to give bio-availability of maximum trace minerals through leaf, stem, seed and root. These minerals then sustain growth and help to maximize yield.
4. Helps to guard the plant against setbacks caused by trace due to micronutrient unavailability or above normal requirements due to climatic stresses.
5. Reduces dropping of immature flowers & increases maturity and improves quality of fruits.
6. Improves / increases keeping quality life of vegetables and fruits.
7. It promotes the development of roots and better propagation of rootlet & helps to give boost to the synthesis of enzymes.
8. Increase quality and yield of farm produce.

Applications:
Suitable to apply through drenching and spraying.
1. The transporting structure for the minerals into the plant cells is hudrolyzed protein (amino acids).
2. The molecular structure of the carrier is compatible with the plant's internally produced metal chelates.
3. Gives extra benefits when mixed with BVG Agrow magic.

Doses:
1. 1 gram / liter of water.
2. Spray liberally on crops.